MORE RIVER INFORMATION AVAILABLE AT:
www.RiverBills.com
CLICK ON ANY OF THE GRAPHICS TO GO TO THAT WEBPAGE FOR MORE INFO.
Currently the only webcam on our stretch of the river is at The Boathouse. Anyone interested in hosting a webcam on the river can contact Bill Kelley of www.riverbills.com as he has some that are ready to be placed in good locations. Email Bill at riverbill@prodigy.net if you're interested.
Current weather conditions at Polestar Boating Center in St. Charles MO from RiverWeather.com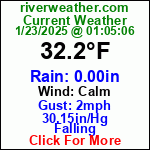 MISSISSIPPI RIVER GAUGES
MERAMEC RIVER GAUGES
Newest river level gauge in Fenton MO on the Gravois Road bridge, no historical data.